I grew up in the wilds of Northern Alberta with a love of games, an awkward flair for the dramatic and no real sense of personal style. Not much has changed then.
I've built a life in four different countries so far and am already planning the fifth. My career takes me all over the world to either play poker, write about poker or talk about poker on TV. The game found me way back in 2006 after a tiny cable poker show in England (country number two) saw work I'd done on the World Series of Backgammon and offered me a job.
(note: The World Series of Backgammon is totally a real thing and not just something I made up)
I paid my dues and learned about both poker and television in equal measure in those early days and soon moved from Poker Night Live to the newly launched Sky Poker.
From there, I managed to snag a job hosting the European Poker Tour for PokerStars for a couple of seasons and I had an absolute ball traveling around Europe, meeting poker people and making friends.
I was lucky to have John Duthie (a poker TV legend and a great director) take the time to work with me and get rid of some of the bad habits I'd picked up in front of the camera. I had no formal TV training and was mostly just working on instinct and hope up to this point. Duthie's input was invaluable.
My poker game was starting to improve too. From the first moment I knew I'd be working in the industry, I started reading everything I could get my hands on, both online and in book form. Hanging out with so many great pros meant there was always someone around to talk strategy with. I started to notch up a few results and then had my first win during a British TV tournament called the Party Poker Sportstar Challenge.
I followed that up with a second place finish at the Irish Open in Dublin. My biggest cash to date. Although I narrowly missed out on taking home one of the oldest and most prestigious titles in European poker, I was still blown away by how well it had gone and how much I'd learned about the game by playing that final table.
I also started my love affair with the WSOP around this time, going deep in the World Series of Poker Main Event two years in a row and falling head over heels with the whole process.
From there I expanded my horizons back to North America. I moved to California (country number 3) and somehow convinced Mori Eskandani and Poker PROductions to give me a shot. They invited me to work on one of my all time favourite poker TV shows – High Stakes Poker. Working with Gabe Kaplan was an absolute high.
I inked a deal to work with Party Poker back in 2010 and spent a few years traveling the world, hosting their TV content and playing a bit more poker, including playing on Poker After Dark and NBC Heads Up.
In 2011, I joined Norman Chad, Lon McEachern and the crew at WSOP/Poker PROductions on the ESPN broadcast for the World Series Main Event in Las Vegas. Talk about dreams come true. I adore the work we do on this show and every year brings new challenges and changes, which all keep it fresh.
My work on the World Series also gave me a great reason to spend extra time at the Rio Casino with some of my friends. BJ Nemeth (a great writer and photographer) and I began devising ways to indulge the basic nerdiness which lives in both of us. Including doing stuff like this:
Although I loved living in California, I realised that I'm basically a European at heart so I moved back across the pond to Italy (country number 4) with my husband to live La Bella Vita and eat my bodyweight in excellent cheeses every week.
It also meant that I could play a bit more poker in Europe, including making the final table of the PokerStars Shark Cage in 2014.
2015 started off with a bang and a lot of work for the Global Poker Index – hosting both the American Poker Awards in California and the European Poker Awards in Malta as well as the first ever GPI Masters event on Twitch.
I also announced a one year partnership (2015) as brand ambassador and media consultant for an Italian Poker Events company called Tilt Events. It was a particularly fun project to join as I'm worked on it alongside my husband Giovanni, with poker tournaments in the casinos of Venice being the focus.
In May of 2015, we took a leap and made an unexpectedly fast move to Ljubljana in Slovenia. I'd never even been to the country before we spent a weekend there looking for our new home. It was a bit scary as we didn't know much of what we were getting into but it made sense for so many reasons, not least that we can play poker online here on a more global scale instead of being tied to the Italian market only.
February 2016 brought a huge announcement for me as I joined Team 888Poker, becoming an ambassador for this great brand. I'm really excited about what this year will bring and so happy to be working with more people I like and respect! Plus, as they're the main sponsor for the World Series of Poker, this dovetails so nicely with my TV work.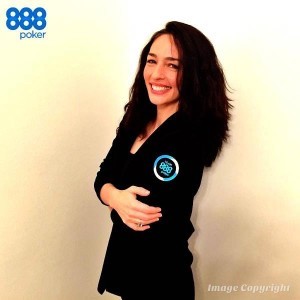 The adventure continues.