It's an obvious title, I know. Still true though.
A few weeks ago, I was invited to go to Tbilisi in Georgia (the one in Europe, not the one in the USA) for a press conference being held to publicise the first ever World Series of Poker circuit event to be played in that part of the world.
I'd never been to Georgia before had no idea what to expect beyond some photos and videos I watched on youtube. It was amazing. It started with the friendliest customs agents in the world, who not only stamped my passport and welcomed me (THEY WELCOMED ME), they gave me a bottle of red wine. No really.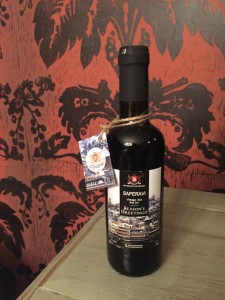 They put me up in this incredible hotel called Rooms Tbilisi.  Luxurious. It was like being in a movie. I walked into the lobby (which is all gorgeous dark wood and walls covered in books) and was greeted by the staff with what I would swear was again actual, genuine welcome. Unprecedented.
My room was so beautiful that I wanted an extra day just to lounge around in it. There was a big, claw-foot tub at the end of the huge, fluffy bed. A chandelier hung above it all and the rotary dial phone and retro speakers just lent more credence to the charm. Charming. All of it. I was totally charmed.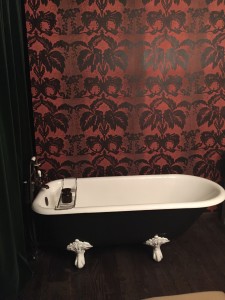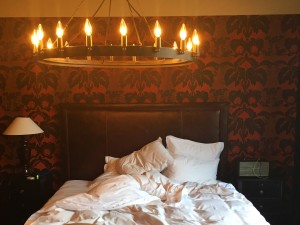 The next day I spent mostly sleeping. Entirely due to my own poor planning, I wound up landing in the wee hours of the morning after not being able to sleep all night. I completely zonked out and eventually resurfaced with only a couple hours of daylight left. Just enough time to go for a walk and get lost in a new city.
What struck me immediately were all the balconies. It was like the buildings were having some kind of competition for who could have the most ornate and beautiful one on every street. I learned later that one of Tbilisi's nicknames is 'The Balconied City'. It totally fits.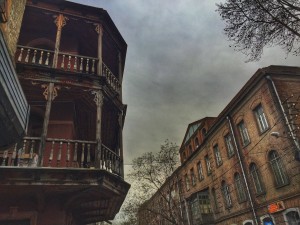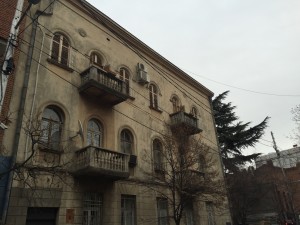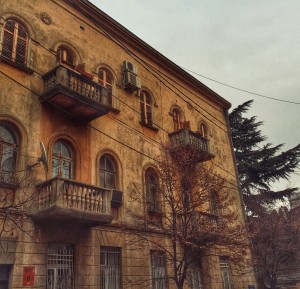 I wandered aimlessly on my own for a few hours, just ducking into coffee shops here and there for fuel before taking yet more photos. Tbilisi is a city like any city, and clearly it's always important to be careful and aware of your surroundings. The entire time though, I never felt at all unsafe. That's a huge plus in my book, as someone who is often traveling alone.
For dinner, my hosts took me to a fantastic restaurant which made it's own bread in a big clay oven on the floor and had a wandering group of singers doing traditional Georgian melodies while you ate. The food seemed never-ending and all of it was incredible. My hosts had clearly heard of my love for cheese because fully half of the dishes were cheese-based and I loved all of them, even the really weird cheese that looked and tasted like butter but they swore was NOT actually butter. I loved that one less but I still loved it.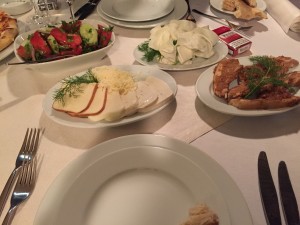 This was also the historic moment when I realised my love of khachapuri. Khachapuri is bread and cheese but it's SO MUCH MORE than that. It's hard to put into words. I still dream about it.
With my ridiculous allergies, it can be really hard now to travel and eat the way I'd like to and used to (everything, with more of everything for dessert.) I feel like there's a lot to be learned about a city by its food and I always want to try all of the things. Sadly, I can't eat with that kind of abandon anymore but my hosts did what they could to work around my weird requests. The wine was damn tasty too.
After dinner, the three of us headed to karaoke, because why not? I had been planning on an early night to get ready for a busy following day but we were having so much fun that I couldn't help extending it a bit. A couple of blue drinks later and I was scream-singing Alanis to a room full of wincing Georgians. Top night out. I highly recommend Georgian karaoke.
The next day was taken up by a full day's tour with a woman named Lela who was not just an enthusiastic guide but also a PH.D. in Georgian History.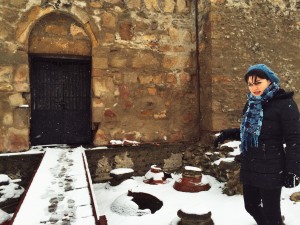 We headed outside of Tbilisi to see the Jvari Monastery first.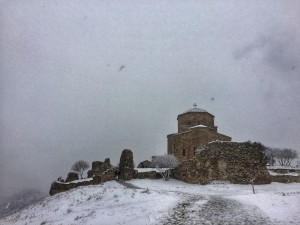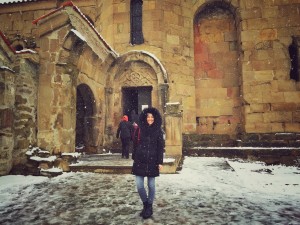 It rarely snows in Tbilisi and so she says these photos in the snow are a rare thing to have. It was cold but totally worth it to hear the history of this ancient city and it's environs. Afterwards, we drove down to the Svetitskhoveli Cathedral which is the religious heart of the country and still an incredibly important site in modern Georgian life.
Lela stuffed my head full with the most incredible stories. She kept asking me if I'd heard enough because she was worried that she might be wearing me out with all the facts but honestly, it was all so fascinating that I wanted to get as much as I could out of the time. Sadly, my head is a sieve so I think it's mostly gone now. Next time, I'm taking notes.
We finished up back in Tbilisi for a walk around the city centre where Lela told us about the Georgian baths, the 40+ times that the city had been destroyed and rebuilt throughout history and the way that the various buildings from different religions were nestled closely together as neighbours. She was very proud of her city and her country and to see it through her eyes was a real gift.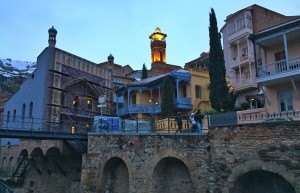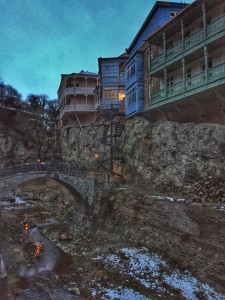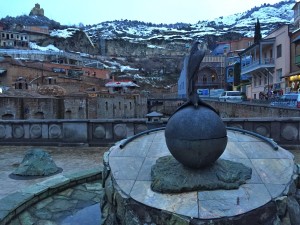 To cap it all off, at the heart of Tbilisi is a beautiful, wild-looking gorge. We were there just as the sun was going down and the magic of the place was … such poetry. There's a waterfall right at the heart of this bustling metropolitan city.

After 8 hours of wandering in the snow, I was too exhausted to go for dinner that night so I missed out on more khachapuri. I still regret that to this day. Khachapuri doesn't grow on trees, you know.  While I enjoyed the claw-foot tub, my hosts wined and dined my WSOP colleagues who had just arrived from North America.
The following day was the press conference.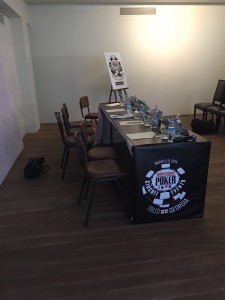 This was followed by an appearance on a Georgian daytime talk show (a lot of fun).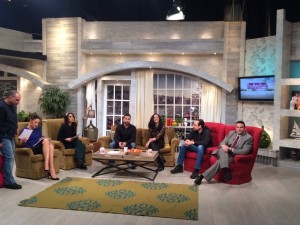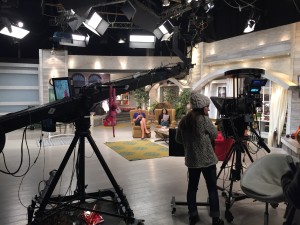 And finally, that was followed by one last kick ass meal at a Georgian-fusion restaurant (with a lot more great wine), a quick nap and then straight to the airport for the red-eye flight home.
The only thing that was less than magic in the entire trip was the indoor smoking and I know some people actually really LOVE that. It kicks off my allergies something fierce though, and that blows. There was no indoor smoking in the hotel (definitely the place to stay) and I was told that the organisers of the WSOPC have worked out a way to keep the tournament area itself smoking free too, so that's a huge plus.
So yeah. If you ever have the chance to visit Tbilisi, take it. I am so glad that I did. And eat as much khachapuri as you can.
God, I miss that stuff.