Of all the gin joints I've ever lived in, in all of the world, Ljubljana is my favourite.
If you'd told me back in Canada when I was growing up, that one day I'd live in Slovenia, I would have laughed out loud at the absurdity of it all. Most countries sounded vague and foreign and far away at that point. Hell, even the USA sounded strange and exotic to a small town Alberta girl.
Four immigrations, a terrifying tangle of paperwork and yet another snap decision later, and I find myself here, in this incredible place I never even knew existed.
I'm still getting to know Ljubljana and I'm quite sure that it's going to take me years to do so. Although everyone I meet speaks at least some English, I'm determined to learn Slovene so that I can properly integrate into and understand the culture. I'm still learning Italian so I can speak to my husband in his native tongue, so this all seems like a HUGE undertaking and feels nearly impossible, but I'm going for it.
It's good to have goals, however ridiculous.
Ljubljana recently won the Green Capital of Europe award and it's easy to see why, particularly when you live here. This city is so immensely functional in a way that respects the environment and the people. I recently saw a chart outlining poverty in Europe and Slovenia had the third lowest rate. There is a sense of humanity here that I like.
There is also something happening all the time. I have written the phrase 'random happenings in Ljubljana' so many times on Twitter to describe some magical weirdness I stumbled across; from medieval fairs, to ancient Roman sparring practice, to restaurant tables dangling from a crane 50 meters up in the main square, to large groups of strangers running silly relay races in the park, to light and art installations, to food festivals, wine festivals, beer festivals, science festivals, bee festivals and christmas festivals. It's all just outside the door whenever I leave our house. It's so common to find something new and interesting that I've only just started making it into a hashtag so I can go back and look at all of them later.
I want to start documenting my time here, because it feels like I'm being given an experience that is rare and special. That I even get to live here is a huge bonus to me and I'm very aware of how easy it is for me to be a migrant, in a time when refugees and migrants are facing enormous obstacles. I'm going to start posting here on my blog, with the tag 'Ljubljana' so you can follow along if you're interested.
To start with, because people like pretty pictures and so do I, here are some of my favourite photos of Ljubljana: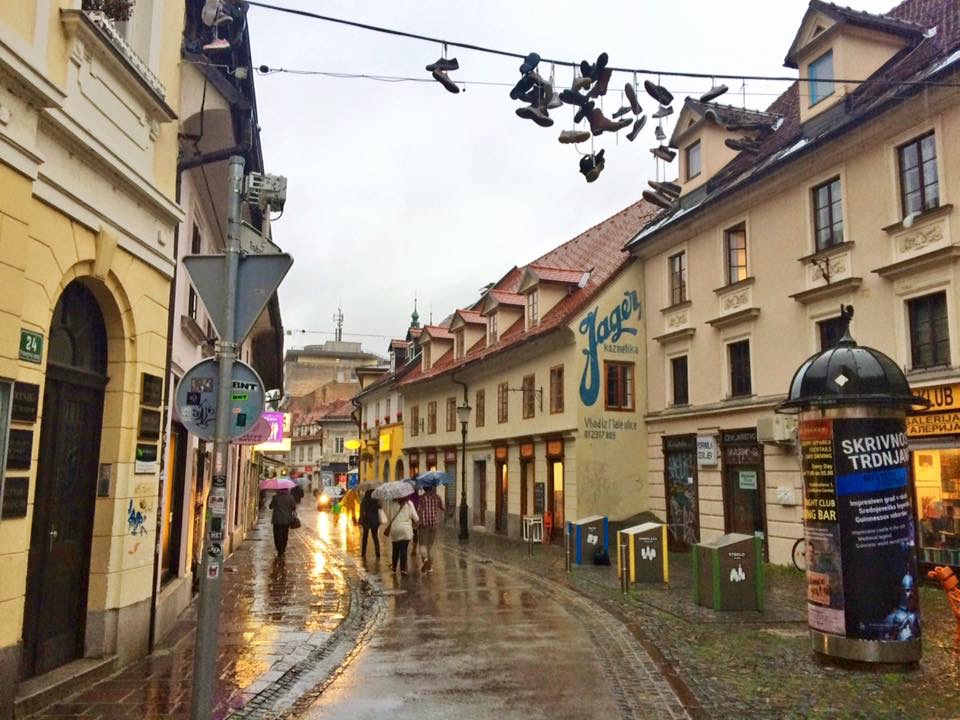 Rainy days in Ljubljana are getting more frequent as Autumn sets in. I love how relaxed it is here though. It reminds me a lot of living in Brighton in that way, only it's waaaaay cleaner. I have yet to see a garbage bag full of 3 day old takeaway curry strewn across the street by seagulls, just for example.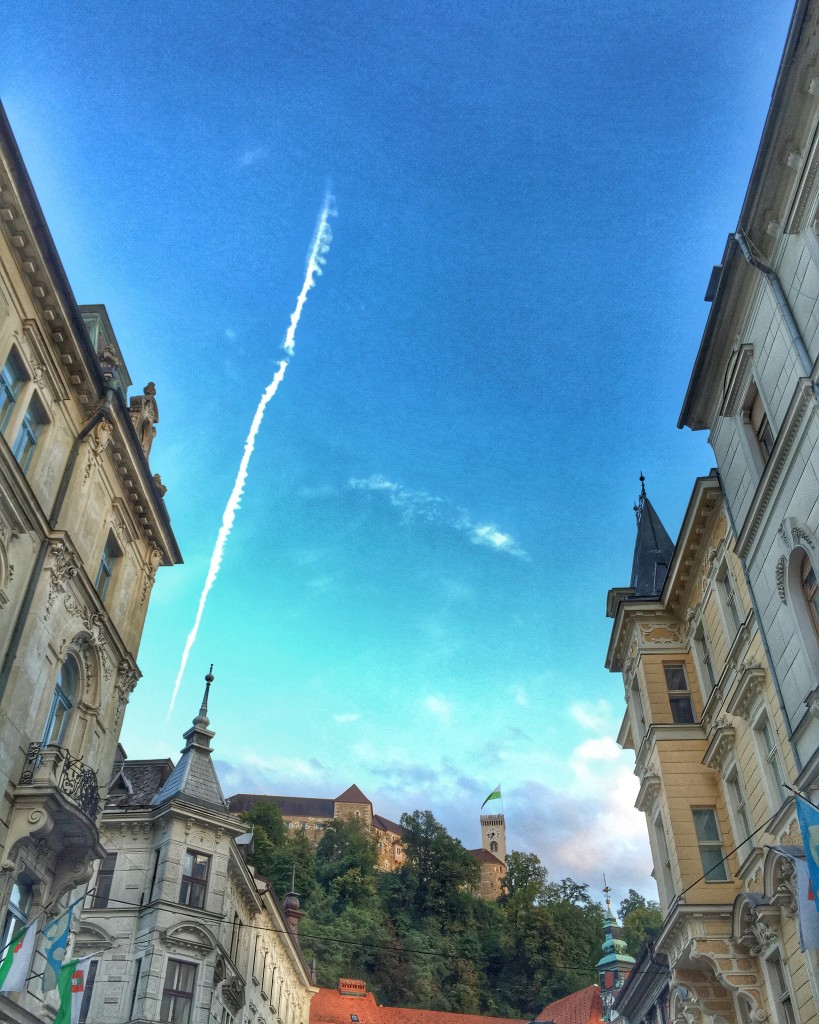 There are a lot of sunny days too and that's also in stark contrast to the decade I spent in England. The castle is right in the center of the city at the top of this large, green hill. It's not a bad walk up there and being able to see this every day as I go out to buy groceries is fantastic.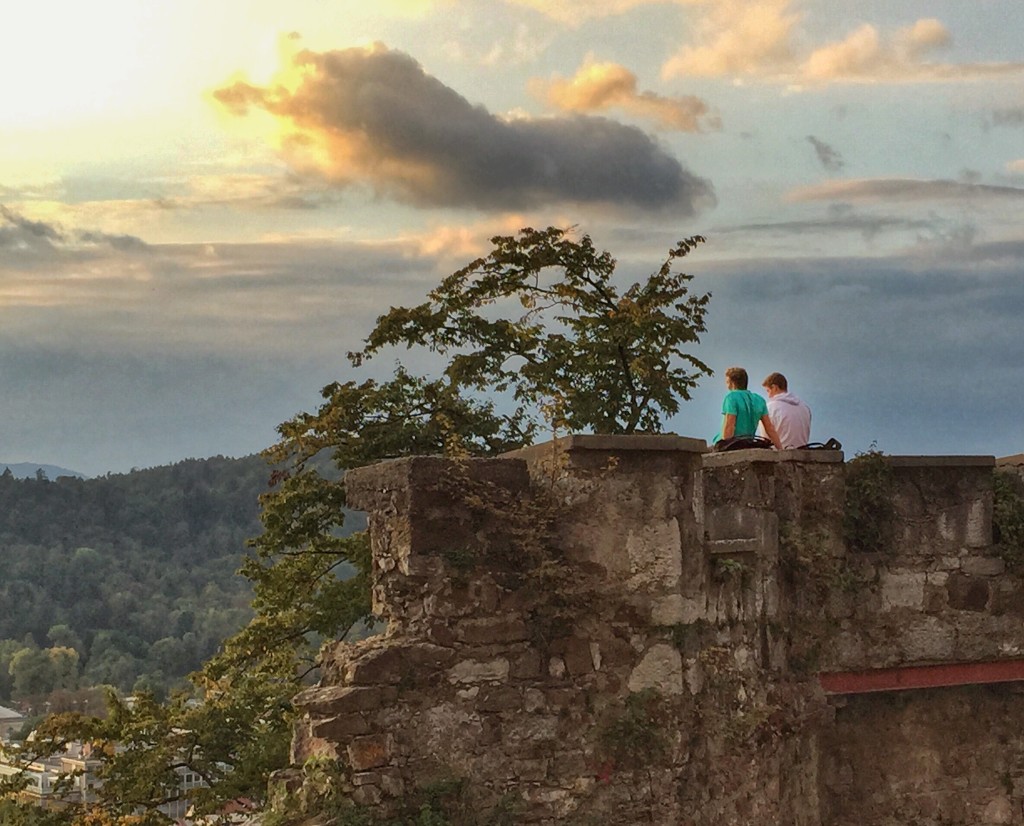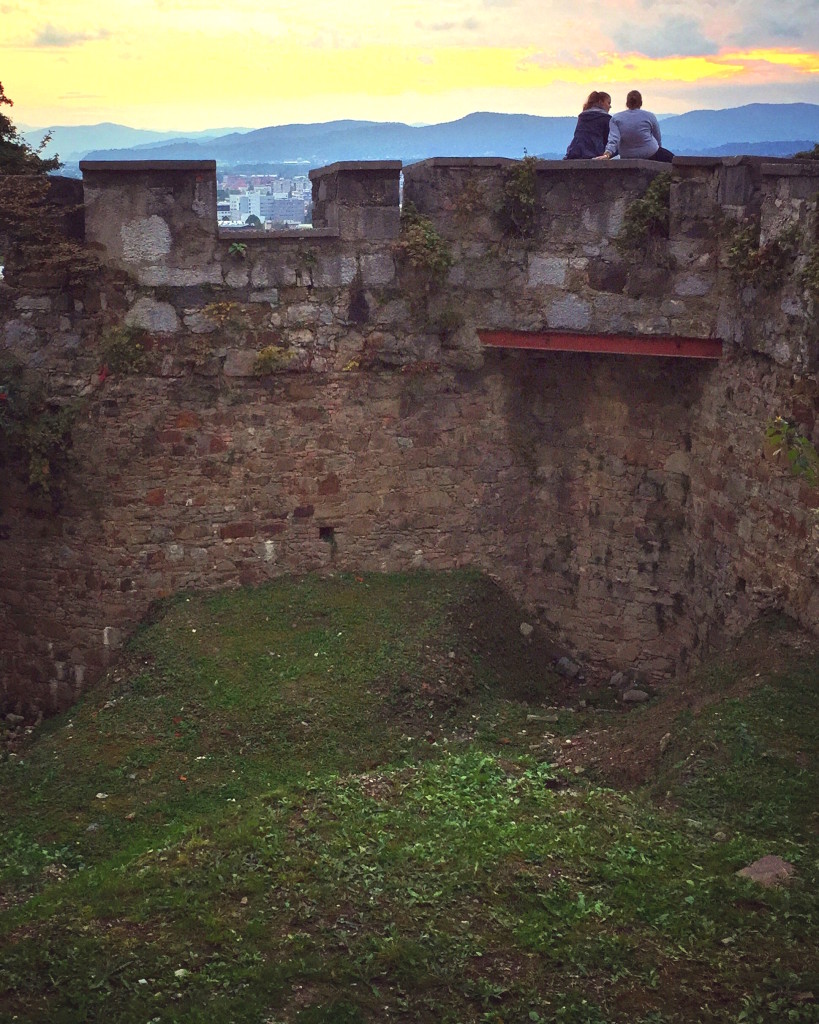 The view from the castle is pretty incredible too. Because of it's high vantage point, you get a perfect 360 view at the top. Those medieval folks knew what they were doing. I'm starting to get much more interested in photographing people rather than just scenes. I think I'm going to need to get an actual camera at some point as the iPhone is just not cutting it.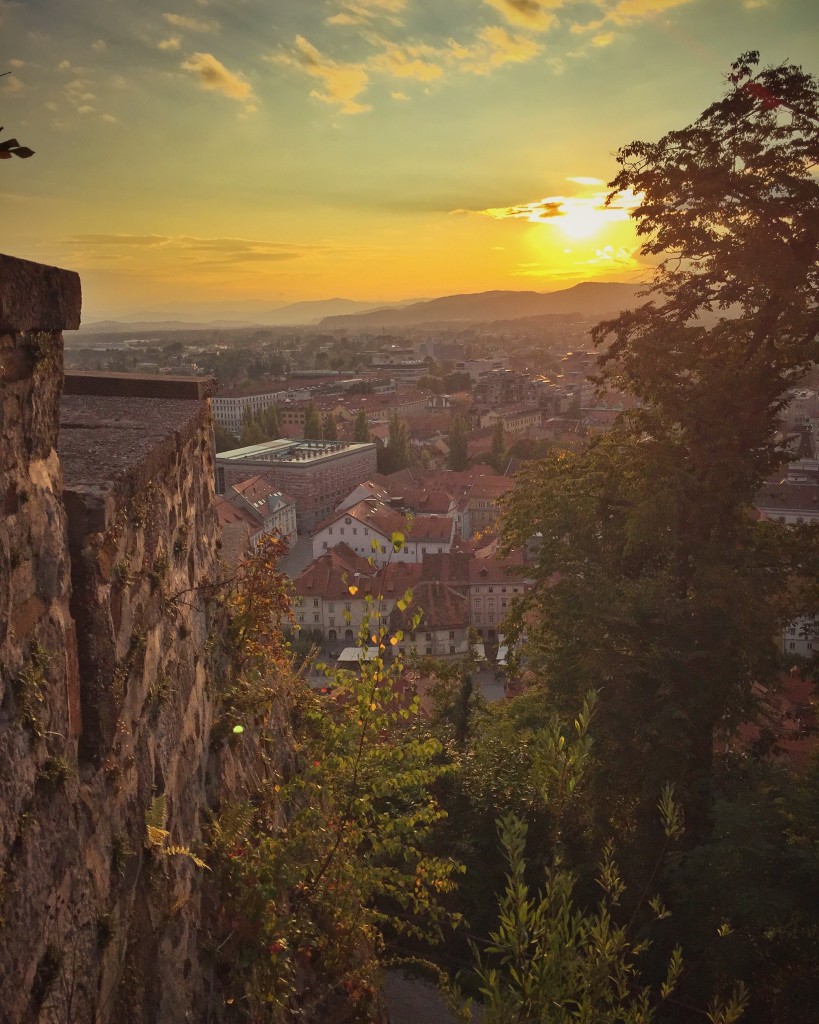 Another view from the top, as the sun sets. I think this is one of my favourite photos ever. I'm pretty proud of how this one turned out.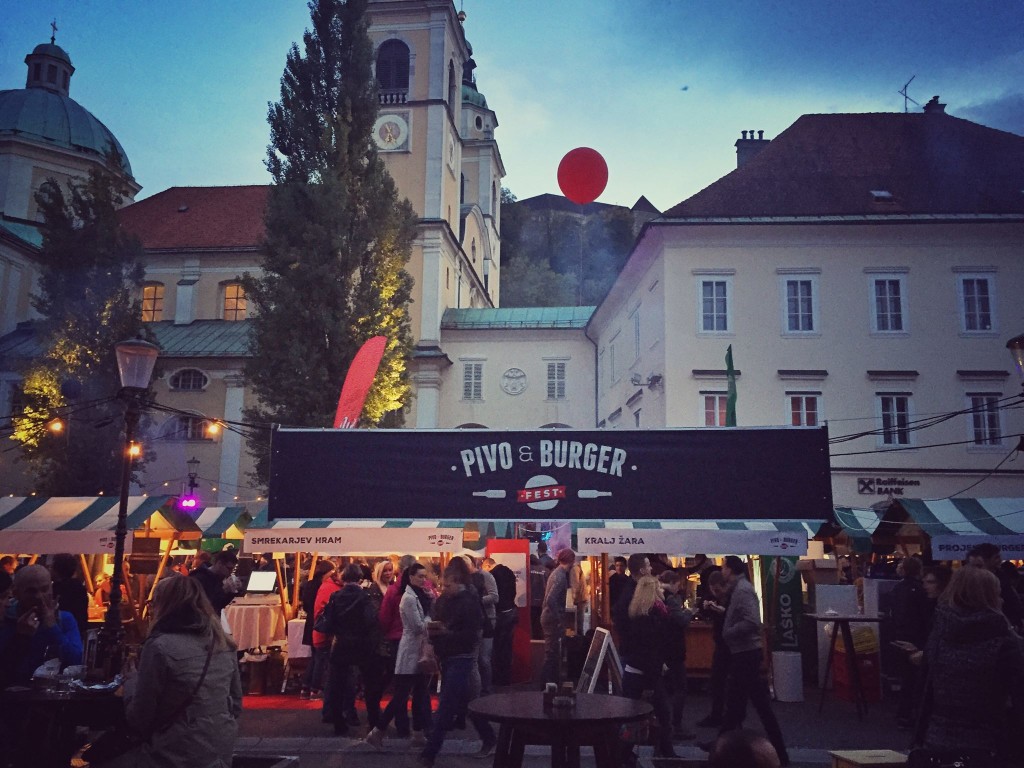 It was the Pivo & Burger festival in Ljubljana over the past weekend and damn it, it was so good that we went two days in a row to stuff ourselves. There is top notch food here, of all different varieties and the food culture is one of the best I've seen. They care SO much about eating well – not just tasty but sustainable, bio, healthy food too. Throughout the spring & summer, there's a food stall market every friday in that same spot, where the best restaurants from all over Slovenia come to sell smaller bites of their food. It's always full of people and always, always incredibly good fun.
Plus, I don't know who is in charge of the music they play during the food events, but it's so far cooler than I could ever hope to be. I love it. Even Shazam can't always figure it out.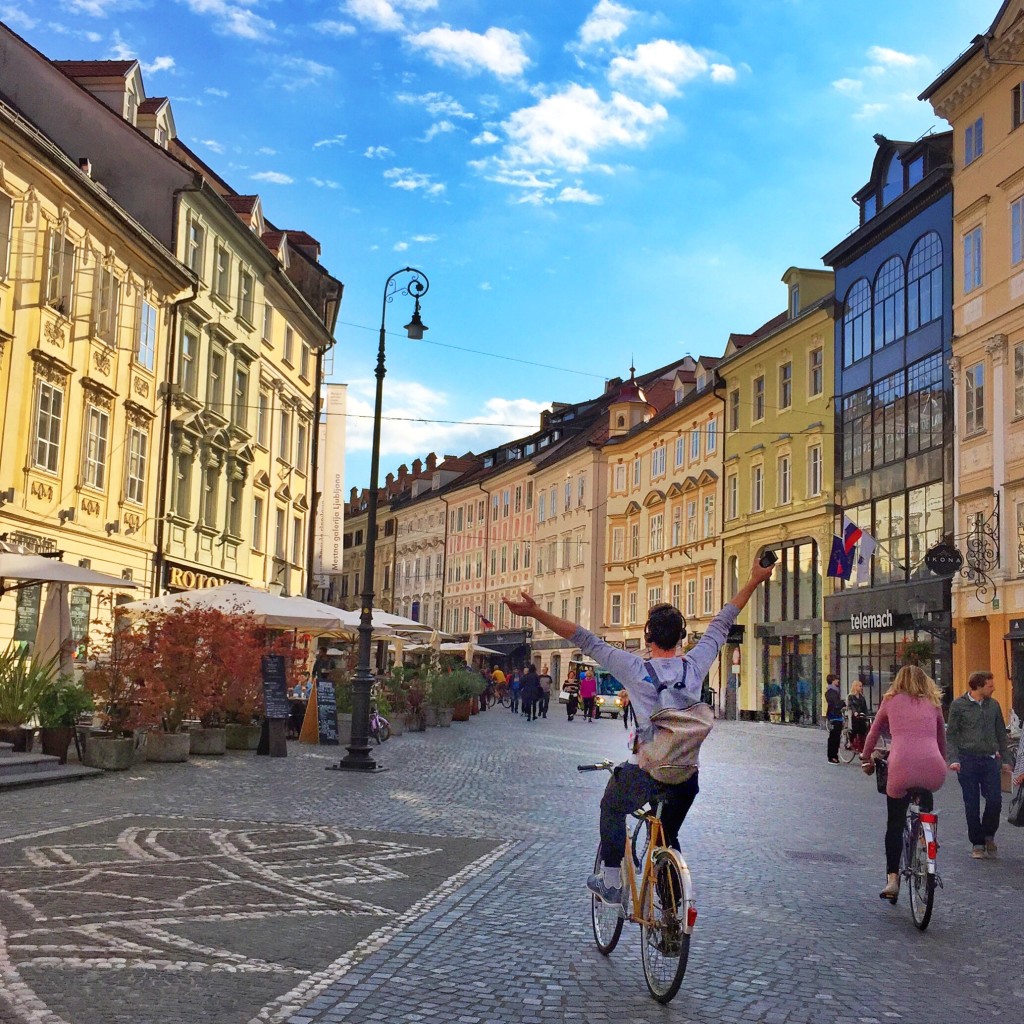 This photo is basically me, every time I go out for a walk in this town. I was just snapping photos of the street when he rolled into frame, singing along to whatever was in his headphones and loving his life. I feel you dude, I feel you.
There's a good reason why the slogan for the town is "I feel sLOVEnia"