The past couple of months have been some of the busiest of my life and when coupled with a case of 'not the greatest health in the world', it's been a real challenge to get everything done.
This blog post is me patting myself on the back for getting things done because damn it, I am rather proud of myself right now.
So we moved to Slovenia. From Italy. Two completely different countries where I don't even speak the language. IMAGINE THE POTENTIAL FOR DISASTER. It's times like this that I'm particularly grateful for the momentary good sense I had in marrying my husband. I genuinely could not have done this with anybody else, without leaving them on the side of a deserted road somewhere. With G though, it's been not just do-able, but a lot of fun.
Ahem.
Okay, for those of you not barfing; Slovenia.
The first thing you should know is that it's beautiful. It's a tiny country with fewer people in the entire thing than the population of Rome. Small and perfectly formed. The city we're moving to is lushly green. Everywhere you look, there are trees and actual wild growth forests – and I'm talking inside the city. It produces some of the best wine in the world (I have already done extensive study) and thank all the small gods, the people are kind and welcoming. Everybody we've met so far has been open and friendly.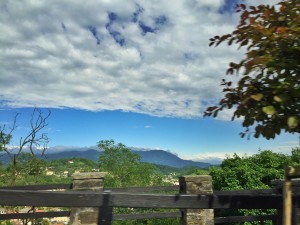 We had 2 days to find a home & begin the residency process in a city we hadn't even visited and in a language we don't speak. It could have gone all different shades of wrong, but by some miracle (and an enormous amount of planning and preparation) we found the perfect spot with perfect neighbours, a landlady who gave us wine and hugs and real estate agents who offered to show us around all the best food shops, AFTER we paid them. It's idyllic.
Ljubljana (difficult to spell for this Canadian/Brit) has a very relaxed feel to it, while at the same time being the home to a fantastic amount of artwork – both street art and galleries. There seems to always be something going on. There is also enough public cursing for me to feel right at home.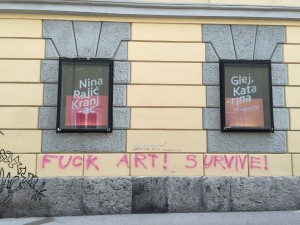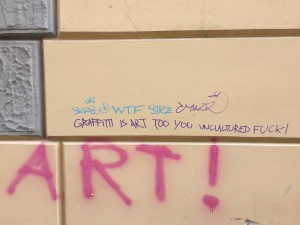 So this is a small introduction to our new home. I'm going to be on the road a lot in the next few months (WSOP and other bits of work) so I won't be here enough to really feel settled until probably October. I'm genuinely looking forward to October though.
OCTOBERRRRRR!